Varkaus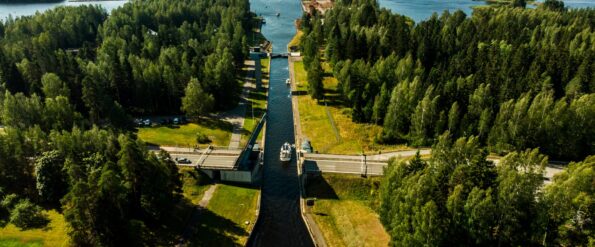 Experience the easygoing life in Varkaus. There are fun attractions, activities and events for travellers of all ages. The town is home to several buildings designed by famous Finnish architects. The magnificent nature of Lake Saimaa also invites you to discover Varkaus.
In the heart of Savonia stands Varkaus, known both as a traditional tourist destination and for its industry. The town is home to several buildings designed by well-known Finnish architects. Alvar Aalto, for example, designed both industrial buildings and homes for people in Varkaus, leaving his mark on the town.
Things to see and do for the whole family
Varkaus is a destination for the whole family with things to do for children and adults alike. The town offers a wide range of events and activities for all ages. In Varkaus' parks you can spend a pleasant summer's day enjoying a picnic and delicacies from local traders. Just outside the town centre, you can also find nature spots to admire by borrowing a city bike. Varkaus also has several special museums where you can see rare artefacts and learn more about the history of the area. In winter, you can go skiing, ice-skating and ice swimming in the Varkaus region. There is also a ski slope.
Situated right on the shores of Lake Saimaa, the town has a number of water and nature attractions. Just a stone's throw from the town's services are several guest harbours for boats of all sizes, making it easy to reach the town by water. Varkaus has a number of canals that allow boaters to move from one body of water to another. The historic Taipale Canal has a museum, a café, a boutique and a nature trail during the summer. The Kämäri nature trail is an easy-to-follow route along which you can admire the rapids of the Ämmäkoski river.
Hiker's paradise
If you enjoy hiking you should head to Varkaus' nature trails, where you can find campsites where you can rest and enjoy a snack.
The Linnasaari and Kolovesi National Parks are nearby but you can also admire more unusual sites in the Varkaus area. The Orinoro Gorge is adorned with high vertical stone walls. A marked nature trail runs alongside the gorge and you can still see snow and ice at the bottom of the gorge in June.
Near the Harjuranta nature trail is the Peis Immonen cave named after the hermit who lived in the area in the early 1900s. There are very special stories and legends about the man in the area. Jäppilä's Kivikuru is a large rock and granite field formed by the continental ice sheet. The area is suitable for self-guided hiking but concerts are sometimes held on Kivikuru because of its good acoustics.
What's on offer in Varkaus?