Lappeenranta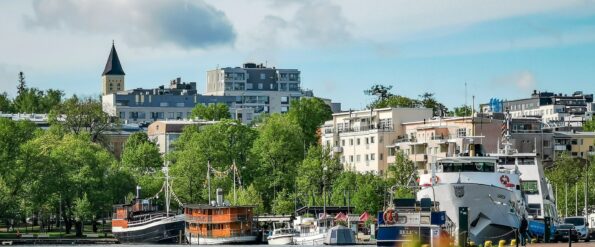 Lappeenranta is known for cheerful Karelians and magnificent harbour. Considered a summer city, Lappeenranta offers tourists experiences all year round.
Lappeenranta, located on the southern shore of Lake Saimaa, has grown on the border between western and eastern cultures. Granted city rights in 1649, Lappeenranta is a perfect blend of modern and old city culture. Historic buildings have been preserved by creating new uses for them.
In the city centre you will find big shopping centres, small boutiques, delightful cafés and quality restaurants. Lappeenranta is a green city that respects a clean environment. Beautiful parks and stunning nature are just a stone's throw away.
A taste of history
Lappeenranta Fortress is the oldest part of the city and the past is really visible there. There is a short walking route around the fortress with signposts along the way telling you about the architectural and cultural history of the area. Along the cobbled street that runs through the area, old and valuable buildings stand tall housing the city's museums, galleries and artisans' workshops. The fortress walls offer a magnificent view of both Lake Saimaa and the city.
In July, you can see dragoons on the streets of Lappeenranta. The riders, dressed in pretentious military uniforms, honour the city's military history by patrolling the streets. The events in Eastern Finland will also feature the Dragoon Band which was founded a hundred years ago.
Near the fortress, a large sandcastle is built in the summer and is worked on by many artists from around the world. Every year the sandcastle has a different theme which the sculptures are based on. Before Christmas, the Fortress has traditionally hosted a Christmas market, where local artisans sell their products. During the winter when there is plenty of snow, a snow castle is built for the whole family.
On the waves of Lake Saimaa
In summer, Lappeenranta's busiest place is the harbour, where restaurants attract locals and tourists alike. There is also a market in the harbour square, where you can buy local products. In addition to delicious food, the harbour's restaurants offer a great view of Lake Saimaa.
It is also possible to admire Lake Saimaa on cruises departing from the harbour of Lappeenranta. There are cruises to Savonlinna, Puumala and the lovely archipelago of Lake Saimaa.
You can also book a canal cruise along the Saimaa Canal. The 43-kilometre-long canal is Finland's most important historical canal, connecting the Lake Saimaa region with the Gulf of Finland. During the two-hour cruise, you will be able to see how the locks of the Saimaa Canal work. The Saimaa Canal also offers visa-free cruises to Vyborg in Russia. The long and varied history of the canal can be explored in summer at the Saimaa Canal Museum.
What's on offer in Lappeenranta?
More information